Nick and Tara Greeley – the Craft of Roasting Coffee at Tinderbox
2017-12-08 10:12:32
Meet Nick and Tara!  This great article is written and not video. But the story and these two awesome personalities, Nick and Tara of  
Tinderbox Coffee Roasters
,  are too wonderful not to share with you! Thanks to writer 
By Chelsea Royer and the "Grays Harbor TALK" for this story: 

In the Northwest, coffee is a culture unlike anywhere else in the US. I love the fact that even in a place as remote as Grays Harbor, I have access to the warmth of a hand-crafted espresso. Thanks to Nick and Tara Greeley, you can find a cozy nook and a cup of coffee as close to the ocean as Westport.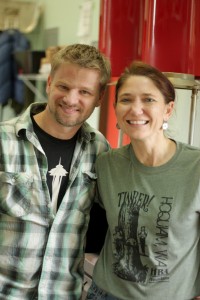 Though both in the medical field, the Greeley's have had a twenty-year-long coffee journey that began with a stovetop espresso maker and continues as an obsession. For years they jotted down ideas, sampled espresso from different shops, and thought about what they would do if they ever had the opportunity to open a coffee house of their own. It was in the most unexpected fashion that their dreams were finally realized.
"I was working in the ER and ran into a mental health professional named, Ben. He had just come off a 24-hour shift and was looking pretty ragged, so I asked him, 'Are you ready for your second career yet? Maybe you should try opening a coffee shop.'
Read the rest of the story here and then answer the 3 content quiz questions below in the MESSAGE box and be entered to win an OCL  prize package drawn at random from all correct "Personalities Around the LOOP" entries.
Nick & Tara quiz: (Tip: simply cut-n-paste questions into Message box, add your answers and press SUBMIT. Good luck!)
 Besides coffee what other profession are Nick and Tara involved in?
 What month and year did they open Tinderbox?
 What three senses are they using when craft roasting their delicious coffee?
[bestwebsoft_contact_form]
Personalities Around the LOOP
is a series of video postcards (and now great articles!) highlighting some of the unique people that make-up the delicious Culinary Adventure found all around the 
Olympic Culinary Loop
!