Holiday Happenings
2017-12-08 10:12:33
There's so much about the season to celebrate and savor!  Take a look at our bountiful notice full of season specials. Here you'll find details regarding any and all special offerings - especially tasty:
Thanksgiving
 Christmas
 New Years
Enjoy all the delicious News!
---
  New Year's Eve Party
$99 For two
Featuring:
Live Performance by Locust Street Taxi
 Signature Cocktails & a Champagne Toast
Specialty Appetizers & Hand-Passed
Hors D'oeuvres
---
The
Resort at Port Ludlow
invites you to pause, and gift yourself with some comfort food each Wednesday in December! Chef Dan and his culinary team will be preparing Three Course French Bistro feasts, with optional flight of wine pairings. Enjoy! Please call
360.437.7412
for Reservations Visit these "Drool Worthy"
menu
offerings!
---
Last Two Dinners Until February 2016 (at Alder Wood Bistro) ----
For those of you who have been anxiously awaiting to see
Alder Wood Bistro
 menu for New Year's Eve or the 3 Courses for $30 on the 30th - here they are!
These are the last two dinners before Jessica, Gabriel and crew close for the month of January.
Seating is limited, call to make a reservation
360-683-4321
.
They close the month of January every year for our annual deep cleaning and vacation.
Opening again

Thursday, February 4th

for 
Lunch & Dinner,

Thursday

-

Saturday

. 
New Year's Eve 2015
$55 per person (an Amuse, one beginning, one main & one dessert)
To Begin
Seared Albacore
Seared Oregon Coast Albacore, Horseradish "Snow", Purple Potato Causa, Fresh Wasabi Leaves
~
Sweet & Savory Wood-Fired Flatbread Pumpkin Puree, Local Pear, Lamb Sausage, Delicata Squash, Nash's Leeks, Mozzarella
~
Smoked Tomato Bisque & Spot Prawns
Organic bisque, Grilled Local Spot Prawn Skewer
~ Crispy Melted Pork
Braised Nash's Pork Roulade, B
ahn Mi Slaw, Pear-Apple Chutney
~ Crispy Calamari Salad
Crispy fried calamari, Cara Cara Orange, Mama Lil's Pickled Peppers,
Kaffir Lime Vinaigrette, Organic Mixed Greens
New Year's Salad
Bleu d'Auvergne French blue cheese, Local Pear,
Nash's Pickled Beets, Hazelnuts, Organic Mixed Greens
Main
Cedar-Planked Steelhead
Local Steelhead, Chanterelles & Pink Peppercorn Butter,
Lazy J's Fingerling Potatoes, Seasonal Wood-Fired Vegetables
~
Grilled Tenderloin
Short's Grass-fed Tenderloin, Demi-Glace,
Organic Buttermilk Mashed Potatoes, Wood-fired Vegetables, Crispy Onions
~
Savory Buckwheat Crepe Torte
Nash's Buckwheat Crepes (GF), Roasted Pepper-Sun Dried Tomato-Leek, Goat Cheese-Kale,
Mushroom Duxelle, Crispy Lazy J's Potatoes, Sautéed Nash's Greens
~
Rabbit Agnolotti
Spring Rain SmokedRabbit & Heirloom Tomato Jus, Nash's Greens,
Crispy Garden Sage, House-Made Pasta, Chanterelles
~
Tierra Y Mar
Elwha Farms Slow-Braised Lamb Shank, Red Wine Jus, Grilled Local Spot Prawns, Mint Chimichurri,
Organic Buttermilk Mashed Potatoes, Seasonal Wood-fired Vegetables, Parsnip Chips
Sweet Finish
Cheese Plate
Bleu d'Auvergne French blue cheese,
Chimacum Valley Dairy Aged Goat Cheese, Poached Pear, Hazelnuts
Cherry & Chocolate Tart
Theo Chocolate, Garden Cherries, Pate Sucre Butter Crust
New Year's Pumpkin Cake Roulade
Chocolate Meringue Buttercream, Hazelnut Pralines, Frangelico Cream Cheese Frosting
Organic Apple Pie
Served Warm with vanilla Ice Cream
Chocolate Bliss
Theo chocolate, Raspberry Preserve, Cocoa Nibs and Hazelnuts
Special Wine Pours
Alder Wood Artisan Vermouth Cocktail
Sparkling Wine, Contratto Vermouth Bianco, Gabriel's Plum-Tarragon Shrub  8. glass
De Bortoli Sparkling Brut
Australia   6. glass / 25. bottle
Crisp, charming, creamy bubbles, fresh fruit, apple, great with seafood
Wines of Substance Sauvignon Blanc 2013
Ancient Lakes Columbia Valley, WA   11. glass / 49. bottle
Grass & fresh citrus, chalk, earth, & slate, focused and vibrant, wonderful depth on the palate
Talley Vineyards Pinot Noir2012
Arroyo Grande Valley, California   12.5 glass / 57. bottle
Exceptional aromatics, notes of fresh black cherries & rhubarb, toasted oak & ripe cranberry, flavors of raspberry, dried thyme, tobacco, & black pepper, Medium body, savory mineral & earth characteristics
Lullaby Winery Lalayee  2010 Merlot-Cabernet Sauvignon
Walla Walla, Washington   15. glass / 70. bottle
Fragrant nose of blackberry, leather, cedar & tar. Showcasing flavor of blackberry, black cherry, earthy notes of leather, sandal wood, & pencil lead. Medium body, silky tannins, excellent structure, lingering finish.
---
---
New Years Eve at Nourish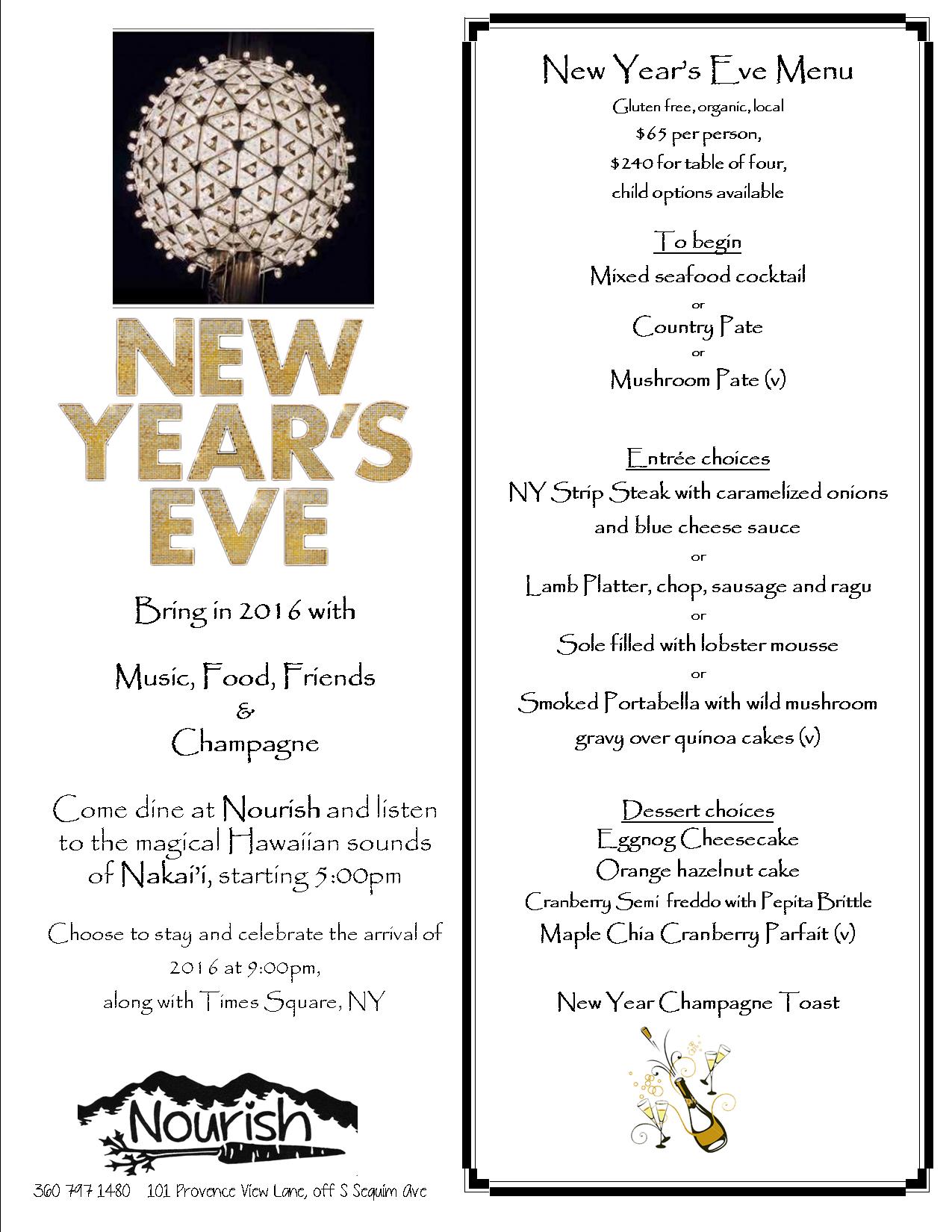 December 31

:
Join us for our third New Year Celebration featuring Nakai'i. Their lovely Hawaiian music chases away the winter chills. We will celebrate New Year at
9pm
along with Times Square in NY. We will offer a 4-course menu with choice of entrees including a champagne toast and party favors for $70 per person. Bring friends and receive a $20 discount for a table of four. Please make your reservations soon - call
360.797.1480
! We will be closed
Jan 1
but plan to be open through the month of January Happy Christmas to you all, Nourish Sequim
---
Olympic Cellars Wine Dinner at Lake Crescent Lodge
Join us for this very special evening at Lake Crescent Lodge. Enjoy an evening of sumptuous wining and dining in one of the most beautiful settings in Washington State.
Cheers! Washington Wine Weekend featuring Olympic Cellars
Saturday, December 5, 2015
6:00 pm to 8:00 pm
, Lake Crescent Lodge $95/person, plus tax and gratuities
Make Reservations Now
! This elegant 5 course meal features a special menu to complement the featured winery wines for the evening. Advanced reservations are required. Please call
360.928.3211
to make your reservation today! -OYSTER SPANAKOPITA (CHARDONNAY, 2014), HOOD CANAL OYSTER SEARED PEARS & FENNEL -GINNY FOWL GALANTINE (DUNGENESS RED LEMBERGER, 2014), ORGANIC GREENS,   BALSAMIC CHERRY GASTRIC -RED CURRY PRAWN (NEUHARTH'S LEGACY, 2013, MAGNUM), CHARRED RED CURRY PRAWN -SLOW ROASTED VENISON (SYRAH, 2012), BAKED YAMS, CARAMELIZED PARSNIPS -CHOCOLATE DECADENCE CAKE (SAILING MOON RUBY DESSERT WINE, 2013), TANGERINE CHANTILLY
---
Dockside Grill
- Sequim for the Holidays!
2577 West Sequim Bay Road
Sequim, Washington 98382
Come and enjoy
waterfront dining
with Jamestown Kuls oysters on the half shell with a cocktail, wine and local draft beer on tap
---
 Winter Wine Festival Grays Harbor County Fairgrounds, Elma, WA | January 23rd, 2016 | Check their web site for hours
www.elmachamber.org
360-482-3055
Over 20 wineries, music, food, merchandise and wine vendors, beer garden and more! Shuttle and discount motel rooms available.
---
Once again we will celebrate Christmas Eve with
The Feast of the Seven Fishes
.  This traditional meal emphasizes local fish and seafood, which is a snap in our coastal region.  Enjoy all the options at a prix fixe or a la carte. Individual plates range from $8 to $20.
Red Envelopes! 
It's time for Red Envelopes again!  Join us for dinner anytime in December and your table will receive a
Red Envelope
. Come back in January and your server will open your envelope.  Inside each envelope is a coupon for a discount off your next meal, a discount on wine, a free entrée, or another fabulous prize.  The grand prize is one free entrée each month for the entire year.  There are 400 envelopes given out each year and each one contains a gift for you, our treasured guest.  Don't miss out!
New Year's Eve - 
End the year at our place.  Celebrate with
Michael's Seafood & Steakhouse
.
---
Ocean Crest Resort this year is especially Thankful for Family!
Check out their delicious Thanksgiving Menu. Call for reservations before it's too late, as they only have a few spaces available.
Their Thanksgiving 2015 Menu is "yum!"
---
Join Nourish for Thanksgiving Dinner
Come join Nourish Sequim 
Thursday
the 26th for a wonderful old-fashioned, Thanksgiving dinner with all the delicious trimmings, organic birds, local veggies as well as a vegan option…make your reservations soon!
360.797.1480
---
Serving Thanksgiving to your "troops" for over 100 years!
Contact Fort Worden's banquet & catering department, 360.344.4400 ext 304, TODAY and reserve your families Thanksgiving feast.
---
Baked bounty at
Pane d' Amore
!
---
---
Pumpkin & Gingersnap Ice Cream at Elevated!
For November's blustery weather: Zingy Gingersnap made with gingersnap cookies (fill your own ice cream sandwiches between homemade molasses cookies or packaged gingersnaps). Our Pumpkin ice cream tastes just like creamy pumpkin pie filling. Try a scoop in a crispy old-fashioned cone. We also serve thick, dark hot chocolate and toddy coffee. And, in our candy store next door, an array of our handmade chocolates and truffles. Gift boxed for your Thanksgiving hosts! 627 Water Street, Port Townsend.
---
It's time to order your CRUST holiday pie!
Go to our website to see the menu and send us an order, soon!
www.crustpies.com
---
2015 Centennial Anniversary Holiday Events
OlympicNationalParks.com • 360-928-3211 • 888-723-7127
Washington Wine Weekends
November 20 & 21 - Camaraderie Cellars, December 4 & 5 - Olympic Cellars Fun weekends where you will spend time with the top wine producers on the Olympic Peninsula and the State of Washington. Friday Wine Tasting Reception 5:00-6:30 PM Saturday Wine Maker Dinner 6:00 PM Accommodations for the Wine Weekends can be purchased separately online or with our Front Desk. Advance Reservations are required.
Thanksgiving Day Buffet
November 26, 11:00 AM to 6:00 PM Continuing our tradition of hosting special holiday feasts, the lodge is where families have gathered for generations to share gratitude and create wonderful memories. Reservations required.
Lighting of Lake Crescent
November 28, starts at sunset approx. 5:00 PM Celebrate the official start of the holiday season, the Lighting of Lake Crescent Lodge! Carolers, festive drinks & holiday delights and a visit from Santa. Bring a toy or food donation to support Toys for Tots or the Port Angeles Food Bank. Free to the public.
Franklin & Theodore's Teddy Bear Tea Party
Saturdays – November 14 through December 12, 2 PM Learn the history of the Teddy Bear as well as two Presidents and their ties to Olympic National Park. Children are encouraged to bring their favorite adult and teddy bear. Reservations required.
---
Thanksgiving is fast approaching. You may remember our original Working Girl, Kathy's blog, "You Know the Turkey is Dry When." If not, let's just say that cooking is not Kathy's forte. She is very talented, brilliant and kind (I could go on) and we miss her daily presence around the winery since she retired in 2014. However, we do keep in touch. Her latest business adventure is in the self-defense industry and survival food. This is food that you just add water and poof - you have dinner. It's perfect for Kathy. Well, once a Working Girl always a Working Girl. Kathy decided to Google 'dehydrated wine'. They make everything else, why not wine? Sure enough it's out there, but the reviews are pretty bad and it contains no alcohol.  So, she decided to keep her supply of wine flowing from us. The moral of this story is - liquid wine is better. With the Holidays upon us, friends and family dropping in, and the need for that special hostess gift you might want to have a "stash" of wine around. and I'm not talking dehydrated.
To help you out, and say thank you to all of our customers for making 2015 another fabulous year
I'm offering you a
30% 
case discount.
You can order on-line at www.olympiccellars.com or stop by the winery. We are open daily 11-5 (closed on Thanksgiving, Christmas and New Year's Day).
We will check the weather daily and as long as the weather holds, we can ship. Best wishes to you and yours this Holiday season, from - The Workings Girls and Greg
---
Thursday, November 26, 2015 11am-9pm
Adult $20, Child $12, Under 5 years eat free. The Cedars at Dungeness Golf Course Thanksgiving at The Double Eagle Restaurant
Thursday, November 26, 10am-7pm
Adult $23, Senior $20, Child $15, Under 5 years eat free
---
Includes garlic mashed potatoes, andouille sausage stuffing, fresh vegetables, soup or salad, homemade bacon and
jalapeno cheddar biscuits and dessert.
Turducken
Boneless Chicken Stuffed Inside a Duck stuffed inside a Turkey $22 per person, $20 each for two or more
Smoked Ham
Smoked in house, 10 days in a brinethen rubbed with a Cajun spice and smoked for 12 hours $20 per person, $19 each for two or more
Turkey & Ham Combo
$23 per person, $21 each for two or more
Desserts
Apple pie, pumpkin pie or pecan pie with whipped cream
---
Thanksgiving Day Activities
Thursday, November 26th
10:00 am - 7:00 pm, Lake Quinault Lodge Join us for a truly memorable day and a Lake Quinault Lodge tradition! 10:00 am - noon - Special activities for the kids All afternoon and evening - can you say football?  One corner of the Quileute Room will be set up for optimal football viewing so football fans can watch the games on Turkey Day!  The bar will be open if you'd like to enjoy an adult beverage. 3:00 pm - Pumpkin Bocce
12 noon - 7:00 pm - Our amazing Thanksgiving Buffet!
 Join us for a
magnificent feast
which has become a Lake Quinault Lodge tradition.  executive Chef Justin Kronin and Chef de Cuisine Jared Mallory will tempt your taste buds with traditional and non-traditional offerings - and we'll do the dishes!  
$36 adults:$30 Senior; $14 kids under 12 (Advance reservations are required; please call
360.288.2900
)
---
A sampling of previous holiday specials offered by my members. (Check with them directly for current offerings)
---
Black

Friday

 - SALE - Save 30%  + $10. SHIPPING!
---
Happy Thanksgiving everyone! And come visit the tasting room the weekend of 11/28-11/30, Friday Sat, Sun, 12 to 5. We'll have specials on your favorite ciders and wines each day.
---
Elevated Ice Cream
Come try our Thanksgiving Holiday Flavors
Cranberry Italian Ice, deliciously light desert after a turkey dinner; and creamy Cinnamon Ice Cream, serve with warm apple pie. Our boxed assortments of Elevated Chocolate Creams, Truffles and Chews is a great gift for dinner hosts or guests.
---
See details
or call 888.896.3818
At Lake Crescent Lodge, we love the holidays and would like to extend a special invitation for you to share in our celebrations. Enjoy a timeless treasure set in a landscape which twinkles with natural beauty. With many wonderful holiday events to enjoy and a very special rate you can leave the everyday behind to create new memories you'll cherish forever.
We look forward to seeing you before we close for the season on January 1, 2015!
Come home to Lake Crescent Lodge for the holidays.  Upcoming!Thanksgiving Day Buffet November 27th, 11:00 AM to 6:00 PM Thanksgiving continues our tradition of hosting special holiday feasts because this is where families have gathered for generations to share a moment of gratitude. Reservations required: 360-928-3211Lighting of Lake Crescent November 29th Celebrate the official start of the holiday season, the Lighting of Lake Crescent Lodge! Carolers, festive drinks & holiday delights and a visit from Santa. Bring a toy or food donation to support Toys for Tots or the Port Angeles Food Bank. Free to the public.
| | |
| --- | --- |
| Teddy Bear Teas Saturdays through December 27thLighting of Lake Crescent November 29th Christmas Eve Buffet December 24th New Year's Eve Gala December 31st | Thanksgiving Day Buffet November 27th Sundays with Santa December 7th, 14th, & 21st Christmas Day Brunch December 25th New Year's Day Brunch January 1st |
---
---

Crafting Artisan Wines in Port Townsend!
All the grapes are in, and a few tanks and barrels are finishing fermenting.  What a great vintage! November already, and with the Holidays just around the corner, the tasting room and gift shop will be open every weekend from 11am to 4pm, or by appointment On Thursday November 20
th
, Virginie will be at Blondie's Small Plate in Sequim,WA featuring her wines from 5pm to 8pm.
---

The Best Nightlife in Sequim!
We just released two new wines. 2013 Malbec fruit driven Argentinian style of Malbec. Aged 10 months in French oak. Delicious on its own or great with beef dishes. 2011 Nebbiolo. Very rare treat for Washington. Two years in French oak 1 year in the bottle. Only 50 cases produced. Join us for the Harvest Wine Tour all wines 15% off during the 
Nov 8-9th
. Live music Wednesday - 
Saturday
. Thanksgiving Specials: Come in and taste some award winning wines 15% off wines the week of Thanksgiving. New Hours: Mon & Wed 3-8 Thur& 
Friday
 3-9
Saturday
 1-9 Sunday 2-5
Chocolate Tasting
- Dec 3rd, 4-6pm Taste 5 award winning wines paired with delicious chocolate from Yvonne's Chocolates. $5 tasting fee
New Wine Releases - Dec 6th
Hunter's Red Delicious blend of Tempranillo and Cabernet Sauvignon.
Cheese Tasting
- Dec 10th, 4-6pm Taste 5 wines paired with delicious cheeses from Mt Townsend Creamery $5 tasting fee
Ugly Sweater Party
- Dec 20th Win Prize for ugliest sweater $1 off all WBG/BEER for wearing an ugly sweater
New Year's Eve Bash
- Join us as we toast in the New Year.
---
Alderbrook Resort & Spa
Wednesdays in November: Dungeness Crab BBQ
Located at our Cottage BBQ from 5-6PM, complimentary to overnight guests Taste Dungeness crab straight out of the Canal while our Culinary Team demonstrates the proper way to prepare and serve this Hood Canal treat. -         
Thanksgiving Dinner-
For a truly memorable Thanksgiving, celebrate the special holiday Alderbrook Resort & Spa on 
Thursday, Nov. 27
. The award winning culinary team will prepare a delicious feast which guests can enjoy alongside friends and family. Space is limited and reservations are required. Please see
here
for menu and pricing. -         
Tree Lighting Ceremony-
Aboard the Lady Alderbrook yacht, Santa Claus along with Mrs. Claus sail to Hood Canal to light up the Holiday. Watch as the jolly man in the red suit ceremoniously kicks-off a 'Winter Wonderland' by flipping the switch on
more than ten miles of lights adorning the Resort – including a 35-foot holiday tree and an oversized gingerbread house! Take part in the fun on
Friday, Nov. 28
and enjoy complimentary hot cocoa, photos with Santa and a spectacular fireworks show. -         
Cocoa Cruises and Family Photos with Santa Claus
- Beginning the weekend after Thanksgiving, Santa Claus will be at the Resort each
Saturday
and
Sunday
to ring in the holiday season with family friendly activities. Every
Saturday
and
Sunday
beginning
Nov. 29 until Dec. 21
, guests and non-guests are invited to take photos with Santa Claus from
11:00 a.m.-2:00 p.m.
, with suggested donations for the photos going to a local charity. In addition,
the Lady Alderbrook yacht
will take to the waters of the Hood Canal for festive cruises each
Saturday
and
Sunday
complete with a no-host bar and complimentary cookies. Join Santa on the yacht on Saturdays from
2:30-4:00 p.m.
and local festive carolers on the yacht on Sundays from 2:30-4:00 p.m. Both amenities are open to both guests and non-guests. Space is limited and reservations are strongly advised; $10.00 for children, $15.00 for seniors, $20.00 for adults. Please contact us at 360.898.2145 for advanced reservations. -         
Christmas Brunch and Dinner-
Celebrate Christmas with a festive brunch or dinner crafted by the award winning culinary team at The Restaurant at Alderbrook. Ranging from eggs benedict to a traditional carving station for brunch, to slow roasted Prime Rib and locally sourced seafood specialties for dinner, guests will be treated to a memorable dining experience. Space is limited and reservations are required. Please contact our Restaurant at 360.898.5500 for reservations. -         
New Year's Eve, 80's Style
- Flash back to the 80′s in style at Alderbrook's annual New Year's Eve bash. Enjoy a delightful New Year's Eve dinner in our Restaurant followed by an evening of music, dancing, costumes and prizes! The New Year's Eve celebration is complimentary for Resort guests and $10 for non-hotel guests.
---
George Washington Inn
is hosting a Christmas Tea on
Saturday, December 13
---
---
Lake Quinault Lodge
Thanksgiving Day Activities and Dinner
Thursday, November 2th 9:30am - 7:00pm Join us for this truly magnificent Thanksgiving day which has become a Lake Quinault Lodge tradition. Executive Chef Bradley Harris and Chef du Cuisine Justin Kronen will tempt your taste buds with a splendid spread of dishes. Reservations required:
360-288-2900
www.olympicnationalparks.com
---
Best Wishes for a Happy and Merry Thanksgiving! On behalf of all our crew we are thankful for all you, our loyal customers. We will be closed November 27th to spend time with our families and decorate for the holidays. We wish you all a wonderful time with your family and friends.
We look forward to seeing you soon !
Kristan McCary
Ajax Cafe
---

Dockside Grill at John Wayne Marina
"Happy Thanksgiving to all!"
Hours 1130 to 9 pm
---
New Owners have big plans for Olympic Cellars
Restaurant, brewery on the horizon
On Friday, Nov. 7, the Martin's will host their first winery event kicking-off the Olympic Peninsula Wineries' annual  
Fall Harvest Tour
, which will take place on Saturday, Nov. 8 and Sunday, Nov. 9 from 11 a.m. – 5 p.m.  Friday festivities at Olympic Cellars include an evening of Jazz in the Cellar featuring local jazz artists and appetizers from Bella Italia. Doors open at 6 p.m. and the music begins at 7 p.m. This will be a special, intimate evening with only 50 tickets available. Tickets are $25 and available
online
.   Appetizers are included with the ticket price, and wine will be available for purchase. The winery's new outdoor light display will illuminate the November sky, and ward off dark, gloomy evenings from Nov. 7 until Red Wine & Chocolate in February. Head to Olympic Cellars in November and meet the Martins!  Find out more about Olympic Cellars and its upcoming events by visiting the winery's
website
, or by calling 
360-452-0160
.
---
Nash's Farm Store
Real Food from the ground up
The harvests are rolling off the fields and Nash's carrots are in their prime! We have our full array of veggies at most of our Farmers Markets now (Port Angeles, Port Townsend, Poulsbo, U-District, Ballard and new this year--Capitol Hill!) while other markets (Sequim and Kingston) have closed for the season.
Coming up at Nash's Farm Store (4681 Sequim-Dungeness Way in Dungeness) are two great cooking demos to get your mouth watering for the holidays.

Art of Pie at Nash's
Back by popular demand, Kate McDermott of The Art of The Pie will present a pie-making demonstration on Thursday, November 13, at 10 am, at Nash's Farm Store, 4681 Sequim-Dungeness Way in Dungeness. McDermott will focus on gluten-free pie crusts and will feature a pear/apple/walnut pie filling. The presentation is free and open to the public.  McDermott became interested in baking as a child, but in 2005, her interest became a passion and she devoted two years to learn what she calls "the craft of crust." Today, she travels the country and the world giving classes on pie-making, and she has been featured in such media as the New York Times, USA Today, Seattle Magazine, Washington Post, and KING 5 TV, among many others.
---
Michael's Seafood and Steakhouse
"Escape to the ultimate dinning exerience"
This November, Michael's will be featuring two wine dinners.  The first event will be with Camaraderie Cellars on November 6th.  On November 19th there will be another dinner showcasing Olympic Cellars.  Chef Wallace will be pairing a variety of wine from these local cellars with local wild caught seafood, free-range meats, and organic produce.  You won't want to miss either of these five course meals.  Contact us as soon as possible for menu details and pricing as there will be a limited availability of tickets.
---