Media Mentions
2017-12-08 10:12:33
Places and people around the LOOP dishing up great media coverage! Contact us if you know of an OCL member or event in the news that isn't listed here: June 20, 2015 NOAA's Olympic Coast National Marine Sanctuary
"Get into Your Sanctuary: Healthy Oceans = Healthy You" June 27 - Get Into Your Sanctuary Day at Olympic Coast Location: Kalaloch Lodge Details: Olympic Coast National Marine Sanctuary celebrates Get Into Your Sanctuary Day with "Healthy Ocean Healthy You!"at Kalaloch Lodge. Activities will include yoga on the beach (9:30am), a beach ecology walk (11:30am) and a presentation about our southern resident orca whales by NOAA Fisheries Lynne Barre (3:00pm). Visitors can also enjoy sustainable seafood meals around Olympic Peninsula at Kalaloch Lodge and other Olympic Culinary Loop
locations. National marine sanctuaries also encourage travelers and community members to explore sanctuaries on this day by adding the hashtag #visitsanctuaries. Anybody can share their experience and participate in the campaign. For more information contact nicole.harris@noaa.gov
---
June 19, 2015 Thurston Talk Westport Winery Wins in Michigan and Texas Submitted by Westport Winery
Westport Winery earned three medals at the recent Tasters Guild International Wine Competition in Michigan. Captain Grays Gewurztraminer, crafted with grapes from Red Willow Vineyard, earned a gold medal. Mermaid's Merlot, a blend of Merlot grapes from Two Blondes and Connor-Lee Vineyards, earned a silver medal. And Duckleberry Grunt earned a bronze. At the Texsom International Wine Competition in Dallas, Bordello Blonde earned a silver medal. This wine is an off-dry blend of Riesling and Gewurztraminer from Red Willow Vineyard. When you visit Westport Winery Garden Resort be sure to explore the unique sculpture garden, lavender labyrinth, musical fence, 9-hole executive golf course, giant chess set, outdoor scrabble game, and grape maze, all located on the corner of Highway 105 and South Arbor Road halfway between Aberdeen and Westport. You will see why this has been voted Best of the Northwest Wine Destination four times. Their award-winning wines are exclusively available at the resort. The tasting room, gift shop, produce market, plant nursery, bakery and gardens, are open daily from 11 a.m. to 6 p.m. The restaurant is open for lunch daily from 11 a.m. to 4 p.m. and for dinner on Friday and Saturday from 4 p.m. to 8 p.m. For more information contact Westport Winery Garden Resort at 360-648-2224 or visit the website at www.westportwinery.com.
---
June 18, 2015, Peninsula Daily News
U.S. OPEN GOLF: Port Ludlow director of golf rubs shoulders with tour professionals at Chambers Bay
By Michael Carman
UNIVERSITY PLACE — Yes, Francesco, people do climb that "big mountain."Letting inquisitive Italian pro golfer Francesco Molinari know the name of Mount Rainier was just part of Port Ludlow Golf Director Vito DeSantis' responsibilities at Monday's U.S. Open practice round at Chambers Bay.DeSantis and Debbie Wardrop, general manager of the Resort at Port Ludlow, shared afternoon starters duties for the practice round on the 468-yard par-4 10th hole.They also announced the first tee Wednesday afternoon.Starters introduce the players as they tee off and begin their rounds. DeSantis said the opportunity to serve as a starter came around within the past month. "I reached out to the USGA and [U.S. Open Championship Director] Danny Sink when he arrived a few years ago and said, 'Hey, I'm a local golf professional and anything I can do to be involved with the U.S. Open, I will do, from sitting on boards to picking up trash,'" DeSantis said. "I wanted to be as close to the action as possible, since it could be a once-in-a-lifetime experience.
[caption id="" align="aligncenter" width="350"]
Port Ludlow Director of Golf Vito DeSantis served as the afternoon starter on the 10th tee at Monday's U.S. Open practice round at Chambers Bay Golf Course. Photo - Debbie Wardrop[/caption]
"There's no guarantee the U.S. Open will be back."
DeSantis lives in Gig Harbor, where Sink relocated his family when planning for the massive event began. "I saw Danny at Rotary meetings and other golf events and reminded him," DeSantis said. "I had invited him to Ludlow to show him the course and resort and offer the property as a location for the USGA if anyone needed hotel rooms." DeSantis said Sink and his wife Lindsay took him up on the long-standing offer just this past month. "He and his wife stayed and enjoyed the property in the last month or so, and out of blue sent an email to Debbie and I with the chance to be a practice round starter," DeSantis said. "It took us about two seconds to say yes. "So, it wasn't dumb luck but being in the right place at the right time, and we are certainly grateful for the opportunity." Besides introducing players to fans, the pair also controlled a device that connected with the USGA's scoring system, inputting which players were teeing off and heading out on the course. "They basically had a printed starting time list that was made up who-knows-when," DeSantis said. "But the handheld device was up-to-the-second correct. "Any players deciding not to play, the device knew instantly and could communicate that back out." Sometimes, though, you're a former U.S. Open winner not on the tee sheet such as Graeme McDowell. "He came over as a single after a foursome had gone off, with another set ready to go, and we asked him if he was looking to play," DeSantis said. "Debbie and I are looking at each other like, 'What do we do?' And Graeme said, 'I'll just go out and sandwich them.' "We popped him into the device and sent him out." DeSantis said he was surprised at how many golfers were seeking local knowledge on course setup. "With the dual tee boxes on No. 10, they were asking if they [USGA officials] would have [them tee off] back here a lot," DeSantis said. "Bill Haas was really neat. He was asking about the No. 9 hole that has the elevated tee box and the lower teeing area." Haas told DeSantis that the lower tee shot looks to be the easier of the two vastly different tee shots because drives from the elevated tee would be more susceptible to wind on the way to the hole. "It's pretty lax and cordial between the players," DeSantis said, "asking about each others families and what they've been up to." Masters winner Jordan Spieth was popular during an interview session that ran long and pushed back his tee time with 15-year-old amateur Cole Hammer and amateur Cody Gribble. "We are standing back there with the crowd starting to build and the excitement — the buzz growing — and Jordan turns to Gribble and asks where he wants to tee off," DeSantis said. "Gribble said he had no idea, and Jordan said he had played from the back tees a few times. "So, the amateur turns to Jordan at the last minute and says, 'Let's play the forward tee.' "The crowd starts to boo and hiss and Jordan looks over and says, 'Way to piss off the hometown crowd.'" Spieth was jokingly referring to the home-course advantage his caddie, Gig Harbor's Michael Greller, is bringing to the championship. "Michael showed up on time with the bag and had to wait for the media session with Jordan to finish," DeSantis said. "Michael asked him what was the deal with the delay, and Jordan joked and said, 'Well, half the questions were about you.'" DeSantis was thrilled with his luck and the experience. "I got to see what they were playing in their bags," DeSantis said. "What irons, woods, hybrids, putters they are using. "It was a blast."
---
June 7, 2015, Thurston Talk By Margo Greenman
Sip Spirits and Slurp Oysters Along the Hood Canal
Summertime is about taking it slow and enjoying the moment. In the Pacific Northwest, this is especially true. During the nine months of the year that don't make up the summer season, locals pine for the sunny days when they can slip on their flip flops and return to the beach sans raincoat. But blue skies and sunscreen aren't the only things that characterize this special time of year. The food and drinks of the season are, for many, just as important as the long, warm days.
Nearby Hood Canal is an oasis for all things summer. With miles upon miles of beaches, myriad options for outdoor adventures — both on the water and in the woods — and an over-the-top selection of fresh seafood, handmade wines and craft spirits to enjoy, locals and visitors alike can drink in the season in more ways than one.
[caption id="attachment_81250" align="alignright" width="225"]
You haven't eaten like a local until you've sunk your teeth into a Hama Hama oyster. (Photo courtesy of Olympic Culinary Loop.)[/caption]
Steve Shively, Membership and Marketing Director for the Olympic Culinary Loop — a unique group celebrating Olympic coast cuisine throughout the four counties united by the Olympic Peninsula — says there are countless ways for visitors to experience the flavors of the region.
After a long day exploring Twanoh State Park or traversing the trails at Lena Lake, Hood Canal-goers will be eager for rations. When hunger strikes, Shively says there's something for every appetite. Visitors can sink their teeth into the local flavors of oysters, clams, geoduck and more at Hama Hama Oyster Saloonor take their tastebuds on a culinary excursion to the Carolinas without ever leaving the Hood Canal at Smoking Mo's, which features slow hickory smoked barbecue and traditional Southern sides.
"Along the 'Hood,' visitors certainly aren't going to go thirsty," says Shively. With Walter Dacon in Shelton, the Stottle Winery Tasting Room in Hoodsport and Mosquito Fleet in Belfair, options for sumptuous red and refreshing white wine varietals are numerous around the Hood Canal. For something a bit stronger,The Hardware Distillery Co. in Hoodsport is the region's resident craft spirit producer, offering everything from gin and vodka to more unique finds like its hard hitting honey mead.
But, it's not just the quantity or even the quality of options available for sipping — and slurping — that make the region a foodie's wonderland, it's the care local food and beverage producers take to make their products extra special that sets the Hood Canal apart.
When Chuck and Jan Morris, owners of The Hardware Distillery Co., learned that Nash's Farm in Sequim was growing Olympic Peninsula grown rye, the couple saw an opportunity to create a 100 percent Olympic Peninsula-produced spirit. The only thing missing was the oven for malting the essential Washington grain. "That's where Hama Hama Oyster Co. gets into the bottle," says Shively.
[caption id="attachment_81248" align="alignright" width="300"]
When Chuck and Jan Morris learned of an Olympic Peninsula farm growing rye, they saw the opportunity to create 100 percent Olympic Peninsula spirits. (Photo credit: Dan Driscoll.)[/caption]
After learning about Chuck and Jan's mission, brother and sister Hama Hama duo, Adam and Lissa James, agreed to let the spirited distillery owners malt the Sequim-grown grain in the same oven Hama Hama has been smoking its oysters in for decades. The result? A Hama Hama-style hooch, complete with what Shively describes as an "oyster nose" finish.
Straight from the farm to the glass, the whiskey, which is currently aging to perfection, isn't just an example of a unique collaboration, it's part of an entire movement in the region to create hyperlocal, 100 percent Olympic Peninsula-made products.
For Shively and everyone at the Olympic Culinary Loop, this is a big deal, because it's a modern day version of the historic traditions the region was once known for. "Sustaining the local history of a native tribal preparation technique for seafood or reintroducing a long forgotten heirloom varietal seed or root vegetable are some of the everyday extra steps that make our members stand apart — far apart — from those who simply cook with a commercial can opener and whatever gets shipped in on a big-rig factory farm truck," says Shively.
With an entire food and beverage movement centered around Olympic Peninsula local, the Hood Canal area and its neighboring towns all have something unique to offer to hungry visitors of the region.
[caption id="attachment_81251" align="alignright" width="300"]
The Hardware Distillery Co.'s collaboration with Hamma Hamma Oysters is a rye whisky with an "oyster nose." (Photo courtesy of Olympic Culinary Loop.)[/caption]
Of course, after indulging in all there is to eat and drink, visitors will need to rest up. With ample options for lodging around the Hood Canal, visitors will find more than just a comfortable bed. Four a 4-star luxury stay, Alderbrook Resort and Spa offers lush accommodations, gourmet nosh and top-of-the-line spa treatments, all available on-site. Want to kick things up a notch? Load up the RV for a backwoods stay at Skokomish Park, then head to nearby Lucky Dog Casino where great entertainment and food are just a few of things available on the menu.
Whatever type of day trip or weekend getaway you seek this summer, frame your adventure around the local foods and beverages that are so abundant along the Hood Canal. For more "appetizing itinerary" inspiration, visit the Olympic Culinary Loop online.
---
June 1, 2015, Grays Harbor Talk By Margo Greenman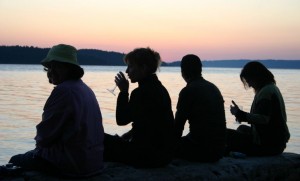 Seattle's Pike Place Market is known for its famous flying fish, but if you ask a tourist where that fish came from, do you think he or she would know the answer?
West of Seattle is a region rich in native fish species, heirloom vegetables, and traditional, local foods found only in the Pacific Northwest. With miles of shoreline and acres upon acres of farm and forestland, Washington's Olympic Peninsula and the Grays Harbor region are a gastronomic haven brimming with restaurants, wineries, markets and farms all stocked with fresh and local foods.
From heirloom Ozette potatoes to the coast's prized razor clams, the region's bountiful offerings are twice as toothsome when prepared by the hand of experienced food producers and chefs. Steve Shively, Membership and Marketing Director for the Olympic Culinary Loop — a unique group that represents the four counties united by the Olympic Peninsula and celebrates Olympic coast cuisine and the traditions that surround it — says the outstanding foods that are found in Grays Harbor are made even better thanks to the local experts and rockstar chefs who take these foods one step further. Shively says Taylor Shellfish andBrady's Oysters are two good examples of this, as their outstanding selections of shellfish have developed a reputation that is respected not only by Pacific Northwest palates, but by the appetites of shellfish lovers across the globe.
While great food starts with great farmers, Grays Harbor chefs elevate these foods further by putting their culinary expertise and creativity to work. Shively says this is evident at restaurants like Andy Bickar's acclaimed Rediviva in Aberdeen, which is renowned for its focus on fresh, sustainable cuisine, like its award winning soups and chowders loaded with locally sourced seafood. And, because Rediviva features a rotating menu of whatever is fresh and in season, there's always something new and delicious for restaurant-goers to sink their teeth into.
Like Rediviva, the restaurant at the newly rebuiltOcean Crest Resort offers an impressive menu of local fare paired exquisitely with the restaurant's extensive wine list. Add a view of the ocean crashing against the shore just outside the window, and each sumptuous bite becomes enhanced by the sounds and sights of the region.
Another can't-miss culinary experience, Shively recommends Grays Harbor visitors visit the Salmon House at the Rain Forest Resort. Shively says the incredible culinary creations featured on the restaurants fresh sheet add to the charming ambiance of the lodge. With outstanding accommodations, divine dining and a national forest all on-site, Shively says Quinault is a must see — and taste — destination.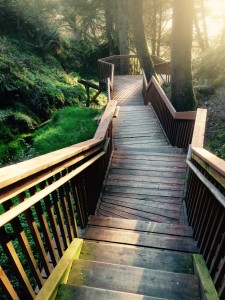 But, you don't have to seek out fine dining to feast like a king. For fresh, local, everyday eats, the Grays Harbor Farmers Market is a favorite. Shively says there's nothing like sitting down in the open air on a nice day with a slice of homemade pie — loaded with fresh, locally grown berries — from the market. Of course, in the summer and fall months, you can pick your own berries (or pumpkins) at the region's many u-pick farms, likeBlack River Blues Blueberry Farm, Shaffner Farms and Voss Acres Produce, just to name a few. For farm fresh produce year-round, Jay's Farmstand is another option for locally sourced fruits and veggies, and you can always get your protein fix atlocal fish markets like Lytle Seafoods and Seafood Connection, which offer the catch of the day, or load up on handmade meats at Aberdeen's Bay City Sausage.
In addition to these Grays Harbor staples, Shively says that there are several new restaurants in the region, like Elma's Flippin Fifties Diner, that offer good food and a fun experience worthy of the trek. Even Westport Winery, which is no newcomer to the epicurism of the area, keeps things fresh and interesting with a variety of new wines, culinary creations and — most recently — a line of award winning ciders.
For serious eaters looking to devour the region, Shively recommends planning a tasting tour, which you can route through the Olympic Culinary Loop. "We want people to come here with a relaxed pace and inquisitive heart," explains Shively. To inspire foodies on their tasting tours, the Olympic Culinary Loop has created a collection ofappetizing itineraries. "These [itineraries] give people some creative ideas to pair together for a full day's worth of activities as they taste their way around the Olympic Peninsula," explains Shively.
Of course, with so many food-focused festivals and events taking place in Grays Harbor throughout the year, visitors and locals alike can plan a day or weekend trip around the event du jour. From the annual Ocean Shores Razor Clam Festival and Elma's popular Winter Wine Festival to Savor Seabrook and more, there's almost always an appetizing event to look forward to in Grays Harbor.
Besides being a mecca for good, sustainable food, the cuisine of Grays Harbor and the Olympic Peninsula is a nod to early Pacific Northwest traditions and the foods that characterize the region. Simply put, Shively says food is a good way to experience the Olympic Peninsula, and, with shellfish, wild game, bountiful produce, handcrafted beers, wine and more, there truly is something for everyone.
Hungry? The Olympic Culinary Loop's website is a great starting point for anyone looking to plan a tasting tour of Grays Harbor or neighboring Mason, Clallam or Jefferson counties. You can also discover a world of Grays Harbor restaurants, farms, wineries, breweries and more by scrolling throughGraysHarborTalk's "food" page.
---
May 27, 2015, Thurston Talk
Westport Winery Wins 2015 Best of the Northwest Wine Tour
[caption id="attachment_80670" align="alignleft" width="215"]
Winemaker Dana Roberts gives a Backstage Wimemaker's Tour at Westport Winery. Photo by Mike Coverdale[/caption]
For the fifth time Westport Winery won the King 5 Evening Magazine Best of the Northwest Competition. This time they won the Best Wine Tour category. The fun and interesting Backstage Winemaker's Tour is offered every Saturday and Sunday at 1 p.m. with Director of Winemaking Dana Roberts. Additionally, guests are invited to do their own self-guided tour every day through the winery's many display gardens that include over 40 sculptures by local artists. Extensive signage is provided to make this a truly memorable and fulfilling experience. When you visit be sure to explore the resort's unique sculpture garden, lavender labyrinth, musical fence, 9-hole executive golf course, giant chess set, outdoor scrabble game, and grape maze, all located on the corner of Highway 105 and South Arbor Road halfway between Aberdeen and Westport. You will see why Westport Winery was voted Best of the Northwest Wine Tour and Destination. Westport Winery Garden Resort's award-winning wines are exclusively available at the resort. The tasting room, gift shop, produce market, plant nursery, bakery and gardens, are open daily from 11 a.m. to 6 p.m. The restaurant is open for lunch daily from 11 a.m. to 4 p.m. and for dinner on Friday and Saturday from 4 p.m. to 8 p.m. For more information contact Westport Winery at 360-648-2224 or visit the website at www.westportwinery.com.
---
May 22, 2015, Peninsula Daily News May 20, 2015, Port Townsend Leader Port Townsend festival Saturday, Sunday to pay tribute to artisan food PORT TOWNSEND — Food enthusiasts can partake of artisan foods and beverages Saturday and Sunday during the second annual Port Townsend Artisan Food Festival. Tastings, classes, demonstrations and an all-day food tour are planned. "Eat, Drink, Learn, Make" is the theme of the festival, which will take food festival participants to creameries, wineries, farms and restaurants in search of the best artisan meal ingredients and sources in East Jefferson County. The area has a few surprises for those who routinely shop at the big Seattle farmers markets, said Will O'Donnell, director of Jefferson County Farmers Markets. "We have one of the greatest concentrations of artisan food producers in the state," O'Donnell said. At the source Many of those producers sell their goods at the big markets, he said, but those who appreciate good food can do even better at the source. "Jefferson County is like Washington state's own little Vermont; we have more cheese makers and cider makers than we know what to do with," he said. Farmers market The Port Townsend Farmers Market, now in its 23rd year, is hosting the festival in partnership with Seattle-based Sasquatch Books and Cedar Root Folk School. The market, which is open from 9 a.m. to 3 p.m. each Saturday on Tyler Street between Lawrence and Clay streets, will offer an extra location in front of the Port Townsend Community Center at 620 Tyler St. for special guest vendors, including a brand-new cheese maker, Chimacum Valley Dairy. Jennifer Adler, a nutritionist, whole foods advocate and author of Passionate Nutrition, will sign books at the market while she talks about how to work more foraged foods into a healthy diet. Cedar Root Folk School will host experiential, food-related classes all day Saturday at the Port Townsend Community Center. All classes are $20 per person Preregistration is preferred at www.cedarrootfolkschool.org, but if space permits, last-minute registrations will be accepted at the door. Classes lacking sufficient preregistrations may be canceled, O'Donnell said. ■ 9:30 a.m. — "Hard Cider Demo" by Finnriver Farm & Cidery. ■ 10:45 a.m. — "The Art of Pickling" by Mama's Harvest's Kayla Boyd. ■ Noon — "Cheese and Yogurt Basics" by Rachael Van Laanen, co-owner of Mystery Bay Farm. ■ 1:15 p.m. — "Kimchi and Fermented Foods" by Marko Colby of Midori Farm. ■ 3:45 p.m. — "Culinary Herbology" by chef Arran Stark. Sunday tours On Sunday, the free, self-guided Artisan Food Tour will feature 10 food, cider and wine producers. Maps to the tour locations will be available at Saturday's festival locations. Tour locations are: ■ Port Townsend Food Co-op, 414 Kearney St., Port Townsend; opens at 8 a.m. ■ Mt. Townsend Creamery, 338 Sherman St.; tours on the hour between 10 a.m. and 1 p.m. ■ Lullaby Winery, 274 Otto St., Suite S, Port Townsend; tasting room open from noon to 5 p.m. ■ Alpenfire Cider, 220 Pocket Lane, Port Townsend; tasting room open from noon to 5 p.m. ■ SpringRain Farm and Orchards, 187 Covington Drive, Chimacum; tours on the hour between 10 a.m. and 2 p.m. ■ Chimacum Corner Farmstand, 9122 Rhody Drive, Chimacum; open from 9 a.m. to 7 p.m. ■ Finnriver Farm and Cidery, 142 Barn Swallow Road, Chimacum; live music and tasting room from noon to 5 p.m. ■ Marrowstone Vineyards, 423 Meade Road, Nordland; tasting room open from noon to 5 p.m. ■ Eaglemount Wine and Cider, 2350 Eaglemount Road, Port Townsend; tasting room open from noon to 5 p.m. ■ Hama Hama Seafood, U.S. Highway 101 in Lilliwaup; fresh shellfish and tastings. More information on the festival can be found at www.porttownsendartisanfoodfest.com.
---
May 22, 2015, Peninsula Daily News PORT TOWNSEND - Cabbage presentation PORT TOWNSEND — Edible education about cabbage will be presented at Food for Thought tonight. The lecture and meal will be from 6:30 p.m. to 9 p.m. at the Fort Worden kitchen shelter, 210 Battery Way. Tickets are $35. Chef Arran Stark will demonstrate cooking methods and techniques. Wes Cecil will provide a tour through the history and influence of cabbage. A barbecue dinner with cabbage accents in several courses will offers tastes of the history of cabbage as it passed from Asia with the Celts to the new world. Craft wine and beer will be available. Cecil is a 16-year professor at Peninsula College's Port Townsend site. He received his doctorate in English from Indiana University. Stark serves as chef and dietary director at Jefferson Healthcare hospital in Port Townsend. Tickets are available at http://m.bpt.me/event/1320893. For more information, see "Food for Thought PT" on Facebook.
---
May 22, 2015 - Peninsula Daily News Peninsula Men's Gospel Singers to perform annual benefit concert Saturday PORT ANGELES — Old-fashioned gospel, the Little Brass Band and a couple of sing-alongs are all part of the Peninsula Men's Gospel Singers' annual Benefit Concert — the last of the season — Saturday night. Admission is by donation to the 7 p.m. event at Holy Trinity Lutheran Church, 301 E. Lopez Ave. Proceeds will benefit three local charities: The Answer for Youth (TAFY); the Captain Joseph House Foundation and the Salvation Army in Port Angeles. As for the repertoire, it will include a few numbers from the Peninsula Men's Gospel Singers' spring concert in March. The audience met these songs with such enthusiasm, member Michael Craig said, that they're coming back for an encore. Along with the men's gospel group, director Michael Rivers also is bringing back the Crabfest Revival Choir, a small ensemble originally formed for the Dungeness Crab & Seafood Festival's Sunday revival in Port Angeles every October. The Little Brass Band, a subset of the men's gospel choir, will bring its saxophones and trombone into Saturday's mix too. The program will go from "Soon and Very Soon" and "What a Friend We Have in Jesus" to "This Little Light" and "Just a Closer Walk with Thee," among other hymns. Then come the solo numbers: "Draw Me Close to You" from pianist Penny Hall; "Eagle's Wings" from first tenor Dan Cobb and "Love Was When" by baritone Michael McBride. While the choir takes a summer break from giving concerts, it will be working on a new CD. Featuring live concert and studio recordings, it's slated for a September release. At Saturday's concert, fans will have a chance to order the CD as well as make contributions toward the cost of its production. To learn more about the choir, a nonprofit organization, visit www.PMGospelsingers.com.
---
More LOOP Press to impress!