Within hours, the geoduck (pronounced gooey duck) is packed live on ice at nearby
Taylor Shellfish Farms
— on its way to be served raw as sashimi or added to hot-pot dishes to satisfy a growing appetite for the unique Pacific Northwest delicacy.
"It's gained this luxury status. A big driver is the growing middle class in China," said Gina Shamshak, an assistant economics professor at Goucher College, who has researched the geoduck market. She added: "They want to consume the higher-valued seafood items, and geoduck is one of them."
Last year, the U.S. exported $74 million, or about 11 million pounds, worth of live wild and farmed geoduck, mostly to China and Hong Kong. That's double the volume and value exported in 2008. An average clam weighs about 2 pounds and can fetch up to $100 per pound overseas. Demand in Asia is prompting shellfish farmers to grow more of the clams along Washington's private tidelands. Several new farms have been permitted in recent years, despite challenges from opponents concerned about plastic pollution, aesthetics and potential environmental harm. [caption id="" align="alignleft" width="252"]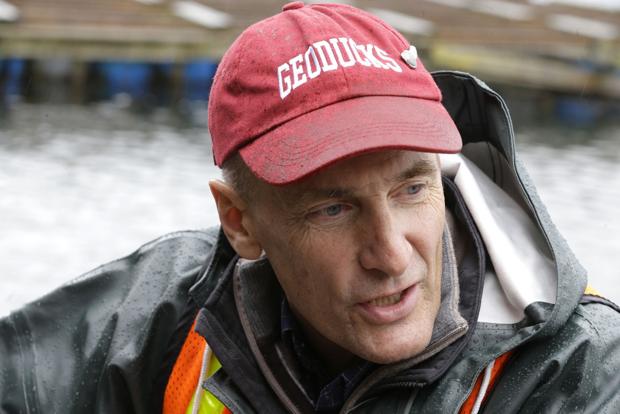 In this March 23, 2015 photo, Bill Dewey, a spokesman for Taylor Shellfish Farms in Shelton, Wash., talks about the five-to-seven year process of growing giant geoduck clams, which are considered a delicacy in Asia.[/caption] And now, backed by new research showing mostly short-lived, localized environmental effects, the state is preparing for the first time to lease 15 acres of public tidelands for geoduck aquaculture. The native geoduck, which comes from a Native American word meaning "dig deep," has been dug recreationally in Northwest intertidal areas for decades, and it thrives in the inland waters of Washington, Alaska and British Columbia. Farming geoduck But commercial harvests of wild clams didn't begin until 1970 in Washington, after divers discovered them aplenty in Puget Sound and lawmakers established a fishery. Commercial geoduck farming followed in the mid-1990s, really taking off in the last decade with modernized growing techniques.